Eggi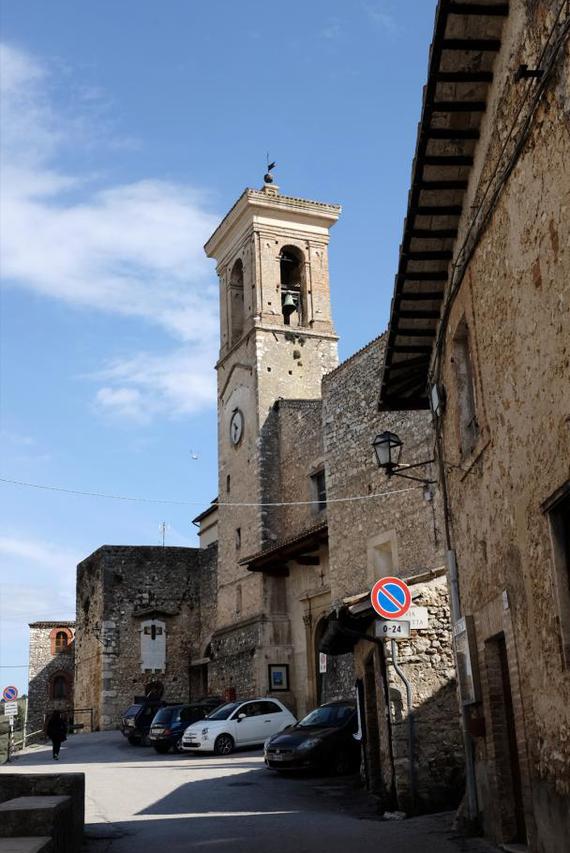 The Eggi castle is located near Spoleto, not far from the Via Flaminia and at the inroad to the Valnerina. The town consists of an older part, mainly from the 14th century, surrounded by mighty walls of which many parts remain intact and culminate with a double gateway backed by two defensive towers; around it an urban agglomeration, which developed from the 15th century, branches out characterised by an intricate network of alleys and narrow streets that border gardens protected by walls, which give the place a labyrinthine appearance.
Before entering the village we find the 18th century Villa Morelli de' Pazzi with its park populated by centuries-old trees. A little further on is the ancient church of San Giovanni Battista, remodeled in the 15th century and containing frescoes from the 14th to the 18th. Below the ruins of Castellocchio is the church of the Madonna di Castellocchio, containing beautiful frescoes from the 15th and 16th centuries, near which we see the ruins of the older church of San Biagio from the 11th century. Going back to the village we reach the main gate of the castle, next to which is the church of San Michele Arcangelo, whose original nucleus dates back to the 12th century, while the current structure is from the 14th century; the remains of frescoes can be seen on the external wall when entering the village through the main gate, accessing the dense cluster of buildings. The structure of the church was remodeled several times and in 1595 the apse was frescoed, covering paintings from previous eras, in the 17th century the original roof was replaced with a vault while the bell tower was rebuilt after the 1703 earthquake. The 14th century frescoes are attributed to the "maestro di Eggi", a still anonymous artist but the known author of several important works in Valnerina. Other frescoes are found in the internal loggias of a building a few meters further up the main alley.
The site on which the castle stands was already inhabited in Roman times, as demonstrated by archaeological findings throughout the surrounding area, these include a necropolis and the remains of a villa and a road. The buildings of the village span from the Middle Ages to the XVIII century and many preserve the coats of arms of the time as well as several frescoes. The first documentation of the village as a "court" dates back to 1087 while in the construction of the castle, plausibly a rebuilding of a previous fortified agglomeration, date to the 14th century. Over the centuries, up until the 18th, Eggi and the surrounding area enjoyed a blooming agricultural economy.