Santa Maria de Ugonis Abbey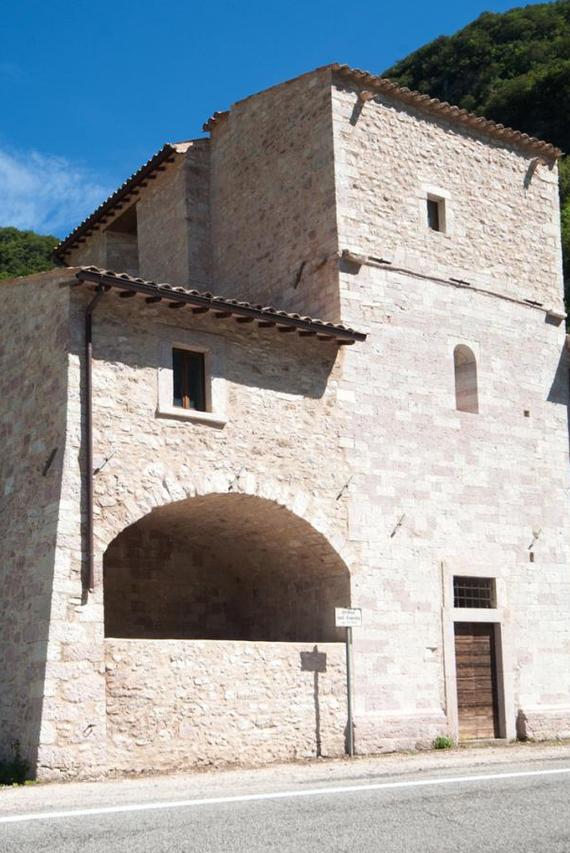 The Abbey is located on the Valnerina main road along the course of the Nera river, the locality is called "of the Hermit" a name due to the presence of various hermitic caves that are found on the walls of the rocky amphitheater behind the complex of buildings.
These were built on the foundations of a previous church joined to the monastery of Santa Maria de Ugonis which the Benedictines of the monastery of Saint Eutizio turned into an abbey in the 9th century. From the 11th century until 1654 it was granted to the Vallombrosian monks.
The current denomination of the church is Madonna of the Hermit and it includes a Greek cross crypt datable to the 11th century which can only be accessed from the road. The structure is architecturally atypical and, although partly in ruins, allows one to imagine the complexity of the original building. In the Middle Ages the place was known throughout Europe and praised by the "charlatans" of Cerreto as a holy place for which they collected offerings to celebrate masses. The interior consists of a single nave connected to a small chapel, of the main structure only the side walls remain and the space over time has been largely occupied by the chapels of the adjacent cemetery, while the base is partly underground, blocking the stairs that lead to the crypt.
The Romanesque portal of the church today serves as an entrance to the cemetery and originally it was the only access to the building, oriented towards the mountain, while inside one can see the remains of the original decorations, unfortunately repeatedly looted between the 15th and 17th centuries. The apse has a barrel vault with traces of frescoes from the 14th century. In 1974 a wooden Madonna of the 12th century and a triptych of the Master of Eggi dated 1451were stolen from the church, later found and now preserved in the village of Piedipaterno. In the 1970s part of the nave and transept were restored and frescoes by the Master of Eggi and others of the 15th, 16th and 17th centuries can be admired there.