Sellano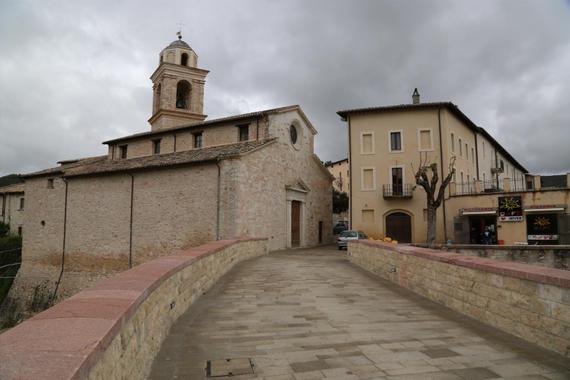 Sellano is built on the hill that overlooks the course of the Vigi river, archaeological findings suggest that the site was already inhabited in pre-Roman times and certainly the first development as a feud dates back to the Longobard era.
In the 12th century Sellano became a free municipality and, due to its strategic position, its control was long disputed between the municipality of Spoleto, the Collicola, lords of Montesanto, and the imperial curia. From 1522, the year of an unsuccessful revolt against Spoleto, Sellano remained part of the papal state until the unification of Italy in 1861. Originally the castle was surrounded by two orders of walls, of which portions are still visible today, and had four access gates, of which only the Porta dell'Annunziata remains, in the oldest, north side of the town; the arched gate (originally frescoed) is now part of a house, originally a convent and then hospitable, with adjacent excavations that reveal the remains of the original XIII century building; inside is a 14th century fresco attributed to the master of Cesi. Of the adjacent church of the Annunziata only scattered ruins remain, while of the other three doors located at the cardinal points there is no trace.
The medieval structure of the village has remained intact and develops on the crest of the hill around three small squares, on the central one there is the church of Santa Maria Assunta which dates back to the 12th century but was remodeled several times, especially in the 16th century and then after the 1703 earthquake. Inside, one can admire canvases from the 16th and 17th centuries and a carved walnut pulpit. It holds the remains of the blessed Giolo, a hermit who lived between 1250 and 1315, an anchorite, co-patron of Sellano. Next to the church and connected to it by an arch that forms the base of the bell tower, there is a noble palace that reveals the various stages of reconstruction from the Middle Ages to the 18th century. Inside, 17th century frescoes survive. The town hall with a 16th century façade faces the upper square, with parts of the 15th and 16th century frescoes, and the alleys lined by several prestigious buildings, mostly from the 18th century and built on the original medieval plan. At the entrance of the village is the church of San Francesco, built in 1538 with an octagonal plan and the remains of the original frescoes.