Trattoria La Casa Rosa in "Alberghi e Ristoranti d'Italia 2017"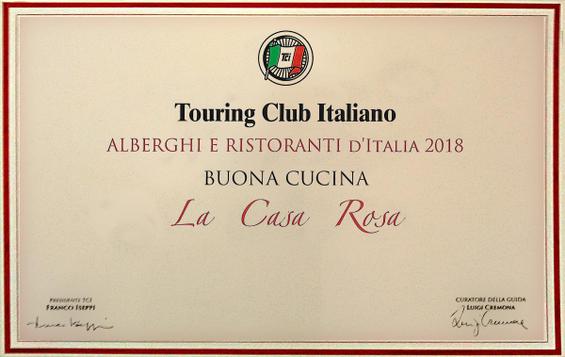 On Sunday 23 October 2016, as part of the "Cooking For Art Rome Finalissima" event at the Officine Farneto in the capital, the awards ceremony was held for the "Italian Rooms" and "Buona Cucina" awards in Central and Southern Italy of the Guide "Hotels and Restaurants of Italy 2017" by the Italian Touring Club.
The trattoria La Casa Rosa was awarded the certificate of "Good Kitchen" with the following motivation: "For its familiar warmth, for the welcoming atmosphere allowing to enjoy a cuisine made of genuine flavours of true regional carachter, and for its reasonable prices".
To collect the certificate at the awards ceremony was Matteo Scaramella, Administrator of Mirto srl, the company that bought and restored the Castello di Postignano, of which "La Casa Rosa" is the trattoria, whose philosophy is based on the simple cuisine, the attention to local tradition and the quality of the source ingredients.