Church of the SS. Annunziata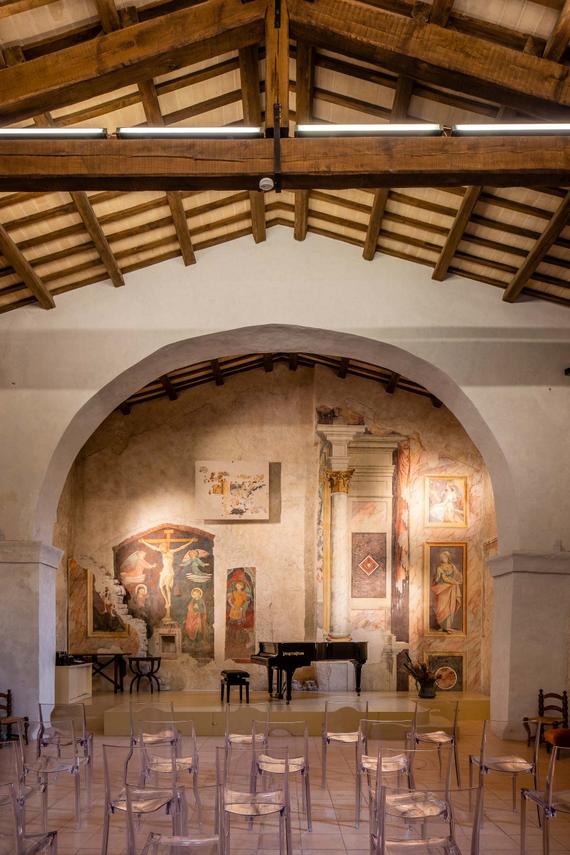 Probably one of the earliest buildings in the hamlet, it dates back to the 11th century and was later extended between the 15th and 16th centuries. A magnificent 15th-century Crucifixion and a 16th-century fresco by the De Magistris school stand out in the background. In 1997, the earthquake caused the back wall to collapse, revealing an earlier fresco behind it, depicting the Crucifixion with the Mourners and one with St Michael the Archangel.
Today the church is a hall used for events and concerts. All events are freely accessible to guests and visitors alike.
From place of worship to place of culture. The church was founded in the 11th century and extended in the 14th and 16th. The apse shows part of the Martyrdom of St Lawrence, frescoed by De Magistris, known as Il Caldarola, which collapsed in the 1997 earthquake, revealing an earlier frescoed Crucifixion, the background of the original, smaller church.
The church was declared a monument of national interest by the Ministry of Culture; after the 1997 earthquake, it was restored and consolidated in an earthquake-proof way, as was the entire village. Today, it is one of Umbria's most interesting tourist centres and a venue for cultural events and ceremonies.